Isabella Mellado en Galería Obra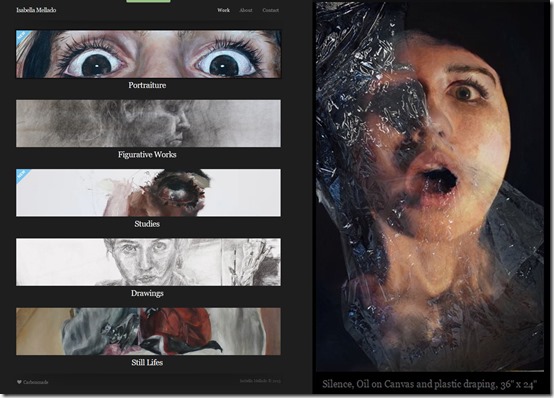 La joven artista con técnica realista exhibe en San Juan
---
Isabel Mellado  a evolucionado como artista bajo la tutela de varios mentores en varias instituciones de la isla. Sus piezas se centra en retratos con un toque emocional.
En su corta trayectoria ha exhibido en el Concurso de Arte del Congreso, donde ganó el primer premio, trabajo que se exhibió en la Cannon Tunnel Gallery de Washington. Ha participado en colectivos en las galerías Pamil, Viotá y Obra. En el 20 13 durante  "La Campechada", presentó una exposición individual en el Espacio de la fundación Arana,  en el Viejo San Juan.
Datos
Ha tomado cursos Natalie Anaya, Sofía Maldonado
Pinta en acrílico y óleo
Ha tomado cursos en Rhode Island School of Design, School of the Art Institute of Chicago y tiene un premio Gold Key de los premios Scholastic Art and Writing . Adems tuvo en el 2014 un reconocimiento del YoungArts foundation
---
este próximo miércoles, 26 de agosto de 2015 a las 7:00 p.m
301 Calle Cruz
(esquina de Recinto Sur)
Viejo San Juan, Puerto Rico 00901
Horario de apertura
Martes – Sábado
1:30 p.m. – 5:00 p.m.