La Tormenta de Sofía Maldonado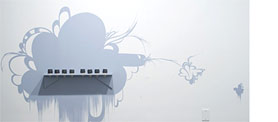 ---
Redacción/ Escrito por Javier Martínez / mayo , 2008
---
La artista Sofia Maldonado esta presentando pinturas, vídeo e instalación en el espacio Magnan Emrich Contemporary en la ciudad de Nueva York. La artista terminó su maestria en pintura recientemente del Instituto de arte Pratt . La muestra comenzo el 15 de mayo y estara presentandose hasta el 23 de junio del 2008.
De qué trata la propuesta
The Tropical Storm is a three-part project blending elements of street culture like skateboarding, punk rock and graffiti with a feminine Latina aesthetic and the chaotic natural energy of the Caribbean. The different elements of the project -The Bowl, Broken Boards and The Skate Bags – originate from the artist's objective to open a dialogue on the renovation of neglected public spaces and how fashion and consumerism influence counterculture youth movements (particularly how these movements are integrated into products and industries).
Información de la artista
---
Esta nota puede incluir imágenes publicadas en perfiles de Facebook y de la red así como de otros medios, las utilizamos para ampliar la experiencia del lector y citamos su procedencia.  Cualquier inconveniente de parte del artista o autores de las imágenes con este contenido se removerá inmediatamente. Puede comunicarse a: Artegiro[arroba]gmail.com
---
Javier Martínez es artista multidisciplinario de Puerto Rico.
Check this other sites: Tinta(a )Diario / Crónicaurbana el blog /  CrónicaUrbana
Coteja estos portales: Instagram / Behance / Tumblr
---
This work is licensed under a Creative Commons license.
---