LGBT Movie Fest | Recomendaciones | Fine Arts Miramar | 17-23 Nov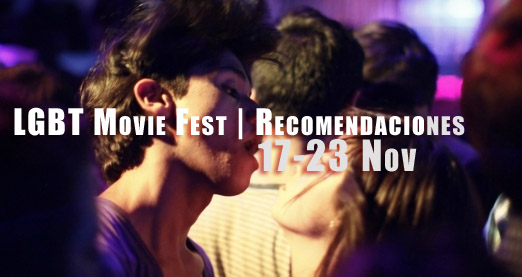 Le recomendamos algunos Films a no perderse del Festival Internacional de Cine Gay, Lésbico, Bisexual y Transgénero.
---
Redacción/ Escrito por Javier Martínez / Noviembre 11, 2016
---
En ocasiones encontrar la película correcta a ver en un Festival se convierte en un dolor de cabeza.  Ya sea porque andas con otras personas y los gustos son disímiles o en el simple hecho de que los carteles lucen atractivos pero no tienes a la mano una sinopsis de la película, sí créelo, aún sucede en este mundo digital.  Por eso este post aspira a guiarte con algunas sugerencias de los largometrajes a presentarse en el Puerto Rico #Queer FilmFest del 17 al 23 de noviembre.
---
---
En otro post acerca del festival indique la alta calidad de títulos ya sea porque algunos de los directores luego de carreras donde han practicado y dominado el oficio ( edición, documentales, guion) realizan sus primeros largometrajes (Extra Terrestres, Something Must Break, Nunca Vas a Estar Solo ) y otros de probada carrera como lo son Olivier Ducastel (París 05:59 Théo & Hugo, The Adventures of Felix) o el veterano André Téchiné ( Wild Reeds, My Favorite Season, Thieves) que ha trabajado con algunos de los más reconocidos actores franceses siendo su diva Catherine Deneuve.  Les dejo con algunos trailers de aquellos films que prometen.
---
Recomendaciones de Autogiro
---
---
Esta nota puede incluir imágenes publicadas en perfiles de Facebook y de la red así como de otros medios, las utilizamos para ampliar la experiencia del lector y citamos su procedencia.  Cualquier inconveniente de parte del artista o autores de las imágenes con este contenido se removerá inmediatamente. Puede comunicarse a: Artegiro[arroba]gmail.com
---
Javier Martínez es artista multidisciplinario de Puerto Rico.
Check this other sites: Tinta(a )Diario / Crónicaurbana el blog /  CrónicaUrbana
Coteja estos portales: Instagram / Behance / Tumblr
---
This work is licensed under a Creative Commons license.